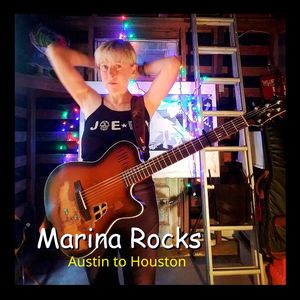 BIO....
Marina Rocks, native Texan, was born in Austin during a summertime heat wave. She arrived in this world
smoking and she has never cooled off. Her mom bought Marina her first guitar. She played it till her little kid
fingers bled. And then she played it some more. Then her mom bought her a Marshall stack! Her
semi-autobiographical composition, "Shero", reflects her deep feelings of
love and gratitude for a parent`s support of a daughter`s dream.
The indefatigable pursuit of the dream; the "beat of a different drummer... these are hallmarks of her strong work ethic. Just take a look at the face of the Godin guitar that she has beaten into submission. Giving up is not something that someone as determined as Marina does very often. It is simply not in her makeup.
   Marina is not merely a guitar slinger but is an award winning songwriter...writing epic songs that paint stories about life & love. Some say her songs are alternative Americana because of the grit & edge. 
Don`t miss the artistry and excitement of Marina Rocks.
Marina Rocks...
Endorsed by Godin Guitars
1st Place Winner Eddie's Attic 51st Songwriter Shootout 2019 (previously won by John Mayer)
1st Place Winner B.W.Stevenson Songwriting Competition 2016
Kerrville New Folk Finalist 2013
Opened for Joe Ely, Hayes Carll, Terri Hendrix & Lloyd Maines, Boston, Deep Purple, Shake Russell...
Booking Inquiries:  713.443.5777
Email: marina@marinarocks.com
Texas Blues Magazine..
"She wields a guitar like Darth Vader would wield his light saber. And she can sing her ass off !
Austin to Houston album reviews...
John Apice in Americana Highways...
https://americanahighways.org/2022/07/20/review-marina-rocks-austin-to-houston/
"Her voice captivates & instead of putting the pilot flame up high she perfectly heats things up with a steady groove & incessant beat as she touches on social issues through her confident performances. With a great band backing her she delves into "Cray, Cray," – a mesmerizing old rock song style that gains altitude with its repetitious whisk soaked in both a memorable melody & Marina's inventive playing."
"I'm most impressed with how Marina finds the right lyric to emphasize & curl around in her mouth like a peppermint ball. Allowing it to melt slowly & letting the flavor last even after the song's over. These 8 songs are textured with passion as "Sleepy Hollow" — just a touch of echo sweetens Marina's voice. Her presence in this tune is an ideal headphone song."
"Marina has good creative elements in the tradition of Bonnie Raitt — that reach for mainstream ears. I liked all her songs. But the CD was far too short a collection. A reprise of "Sleepy Hollow" instrumentally sounds like the late guitar virtuoso John Fahey communicating through Marina's fingers. Stunning work."

Dave Franklin in The Big Takeover  (UK) ...
https://bigtakeover.com/recordings/MarinaRocksAustintoHoustonselfreleased
But this is no plundering or pastiche of past glories, and, having proven that she is no ordinary rock act, Marina Rocks settles into delivering a musical array of sound and style. In a shortlist of "one's to watch," Marina Rocks belongs in an elite subgroup entitled "no, I really mean it."
Lee Zimmerman in The Daily Ripple...
https://thedailyripple.org/index.php/component/content/article/118-music-reviewer-leez/839089-music-review-joy-ride-by-marina-rocks-lz
The single 'Joy Ride' from Marina Rocks - Austin to Houston
"The effusive energy occasionally brings to mind the sunny sounds of Paul Simon's "Graceland" with hints of Taj Mahal and Keb Mo tossed in for good measure, yet at the same time, there's no mistaking the confidence and clarity that resonates with every measure."
Bart Verlent in Luminous Dash (BE) ... 
Marina, despite her suggestive last name, is not a typical rock chick; she makes convincing songs in which we hear influences from Melissa Etheridge, Edie Brickell and Eva Cassidy. Hopefully with this album she gets the attention of a big record company, because she certainly deserves that.
Ulrich Mauer in Gaesteliste (DE) .....
"This is a brilliant record"
Eigen Beheer in Written In Music (BE) ....
Album review ...Marina Rocks - Austin to Houston ( 4 stars)
"Musically Marina Rocks comes close to Lucinda Williams and that has not only to do with the rough vocals, they are particularly fine roots 
Marina Rocks # 1 on Radio Benelux-Belgium & European Tour September 2022
Joy Ride - from Austin to Houston